View Friends of North Plains' position paper on Periodic Review
| | |
| --- | --- |
| | What's wrong with this picture? |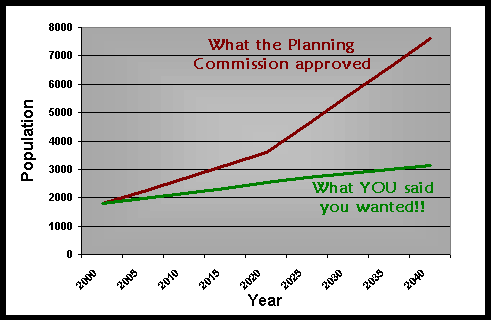 The Big Picture

As you probably know, North Plains is currently going through Periodic Review of its Comprehensive Plan. This Review will determine the way North Plains grows. The Planning Commission has submitted the first three "Work Products" to the City Council for their approval. The second of these Products contains population projections for the year 2020. Population projections are the biggest factor in determining how large North Plains will grow.

The Planning Commission has ignored citizen input showing a strong preference that the town remain small, and has bowed to the interests of developers and others who want to profit from the City's growth. And although they must coordinate their projections with the County, they've approved a larger population than even the county has said they'll accept! What are they thinking?

What You Can Do

Fortunately, the City Council must take comments before voting on these figures. They will conduct a public hearing

next Monday, August 21st, at 7pm in the Community Center. Show Up!

This is the last time you'll have a chance to voice your opinion on this issue.
You must attend and make your voice heard!
| | |
| --- | --- |
| Speak Up! | |
Tell the Council:
The planning commission has ignored your wishes.
You want the town to remain small, preserving its rural feel and the surrounding farmland.
North Plains does NOT need to grow at the rate the developers would like. An appropriate population for North Plains in 2020 is about 2500, not 3750 as the Planning Commission recommends. (See the graph on the back.)
You do NOT want to pay to subsidize growth and reduce your quality of life. More traffic. More-crowded schools. Fewer City services.
Take Note, Then Vote!

At the hearing, watch your elected officials. Note what they say and how they vote on this critical issue. Note the Councilors you agree with, then VOTE accordingly in November! Or run for office!

View Friends of North Plains' position paper on Periodic Review

Last modified 2000-12-27.
---
Friends of North Plains
phone: (503) 647-5023 e-mail: info@fonp.org
Web site problems? Contact the Webmaster.